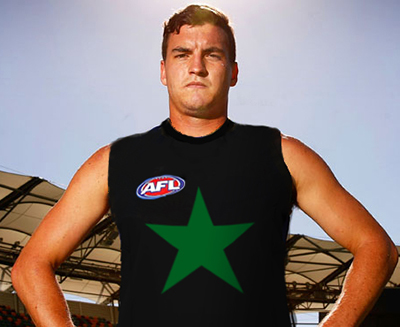 No. 1 pick: Tom Rockliff in Wet Dogs colours.
The 2016 Footy Sausage AFL Dreamteam Fantasy Draft started off as expected with Tom "Oink once for the new Pig" Rockliff going to the Wet Dogs at pick No. 1. Kennedy at 2 was of no surprise to some; considering he averaged 121 after the bye last year, he was an obvious choice for the Low Sagging Testis Aces, but the night took a number of twists and turns as it went on.
While the top ten picks didn't fall too far from what was expected, the order might have surprised a few, with last year's top scorer Stef Martin sliding to Darling Catchment at #10.
After Soda and Vaughan picked non-mids in the top ten, there was a bit of a run on in the teens, Joe, Jack and Josh chose to select a 2nd mid, but all other coaches picked players down the list so as to not miss out on valuable Non-mids.
Soda's second round selection may have started a buy up of rucks: after the 2 top end rucks (Smartin and Goldy) went inside the top ten, only Jacobs and Blicavs were left before a steep drop off. Beaufriends picked Jacobs at 16, then Blicavs went at 20 (Wet Dogs) rounding out the first two rounds, followed next by NicNat at 22 and Mummy, 28. There was then a big gap with Sandilands being the only other ruck drafted before round 8. Five charity picks at the end of the draft gave Joe (Sinclair #98) and Vaughan (Gawn #109) their first choice ruckmen and a few others their back up rucks, most of whom were dual position forwards.
By this point any midfielders picked (around Round 3) could be deemed sliders - none more so than last year's best high scoring mid, Jack Steven, who slid to J.T. at #19. Swan (Setting The Barlow) and Jordan Lewis (Darling Catchment) both averaged over 110 and were picked at 26 and 30 respectively.
Round 4 saw the selection of Franklin, who was chosen at 31 but ranked 130 overall - which caused Sean to comment, "Jim taking a risk on Buddy." Perhaps risky due to his mental health and the fact his highest score was 71 from 6 games after the bye? Darling Catchment's pick 50 of Kade Kolodjashnij was deemed questionable, "Jim, that's like 100 picks too early for KK." - Wet Dogs Coach.
Following KK was the 12th forward taken, GWS' Toby Greene, proceeded by Ebert who re-joined 2015 Grand Finalists Eton Splunks. Vaughan kept with tradition by picking Jelwood for the fourth year in a row, re-securing Dusty from last season, Sloane (2014) and 12volt (2014 & '15). Also repeating the draft strategy of mid heavy selections, picking 8 (2 more than any other).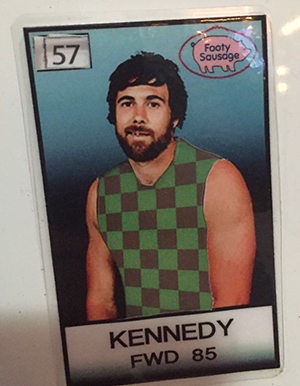 After Ebert, a run of 9 forwards were chosen from the next 11 selections, amongst them were Le Cras (61) and Kennedy (57), two of 16 Eagles picked for the night, six more than the 2nd most (Sydney, Hawthorn, Fremantle and Collingwood).
Team Beaufriends Back may have surprised a few when they picked defender Boyd first up, however the first real shock of the draft was when they took Mitchell Hibberd at pick no. 65, a medium defender drafted to North Melbourne just 102 days previously. Some speculated as to whether this was a master stroke, or a namesake-mistake. It turns out it was an erroneous pick - that particular selection was supposed to go to the Essendon veteran, Michael Hibberd, unavailable, however, due to his suspension.
The early drafting of many non-mid picks was dictated by the Cowgill system, which put a lower emphasis on midfielders due to their abundance ... and something about medians and graphs. The regime also identified the lack of defenders and with the Hibberd selection, Beau's had filled their backline by the 7th round. Even though they left their midfield assembly to the back end of the draft, they managed to collect mids ranked 15, 29, 32 & 38.
Sean, conversely, chose to go early on mids. Rocky, Danger, Goddard (returning Wet Dog from 2013 & 2015) and David Mundy (previous 3 seasons being coached by Josh) were ranked 13, 10, 27 and 11th respectively. While he left picking forwards to rounds 6,7 and 8, his 4 defender selections came consecutively, in rounds 9-12, giving him statistically the best midfield but the worst forward and defensive lines.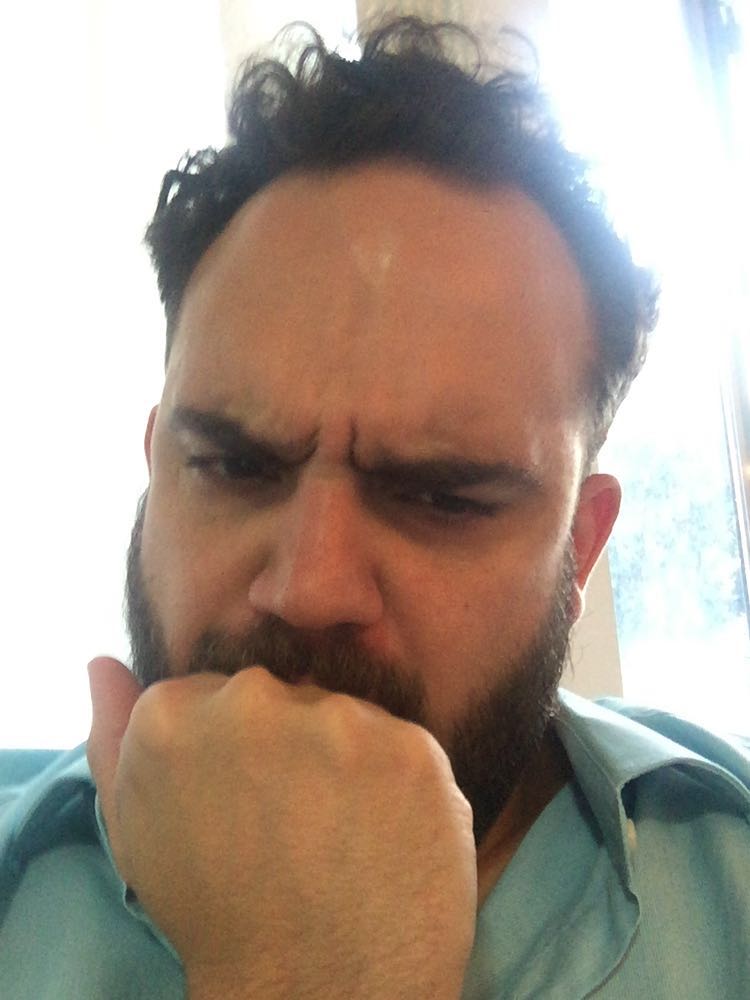 Rhys was the only other one who made a boo boo, picking Roughie, who is out with a knee injury til mid season. While having the best on field eleven in terms of 2015 averages, some may question his list's age profile. Jibbons has the oldest list with an average age of 28.9, which includes Mitchell (33), Scott Thompson (33), Bartel (32), Gibson (32), Rischitelli (30), Mackie (31) and soon to be dismissed, Roughead (29).
On the other end of the scale were young guns, Gaffy Taffy, whose average age of 24, drops to 23 if you omit Harvey. After Boomer (37), Joe's next oldest is Cal Sinclair at 26 and Christensen at 24 and 9 months. Whether this selection criteria is a risk or not will be played out over the season, but the likelihood of Taffy players being out with back related hamstrings and general soreness is low.
Age extremes aren't the only point of risk - many players are coming off hampered or absent seasons, but that perhaps is where the pro gambles pay off. Fontaine chose to gamble on Liber (#74), who missed 2015 due to a knee reconstruction and Wells (#94), who has only played 7 games since April 2014. A gamble easily made after a quality 7 rounds of drafting, securing 2 of the top 5 mids(Pendlebury and Hannebery), the 3rd best defender(Heath), 2 top 15 forwards (Wingard and Motlop) a reliable Ruck (Sandi) and a very likely 2nd defender in Rosa. The Stigmata Trophies look the early team to beat.
Rhys also picked a 2015 absentee when he chose Emac with his third last pick. But Q, picking Ablett at #6 may be taking the biggest risk - after a six game 2015, averaging under 95, and turning 32 in May, the once king of DT could be an egg machine. Gaz also withdrew from this year's preseason competition after injuring his ankle. This on top of injuring his knee in his comeback last year .... which started with an elbow that will never be the same again! Could this be an unfortunate repeat of Q picking Stevie J first up last season, only then to crumble and fall and fail and die in the garbage.
Determined to not deliver the same draft as last year by drafting injured guys (Liber, Hanley, Petterd and Greenwood), Ace Testes Sag Low chose a completely different 15 and eight players who weren't drafted at all in 2015. On the other side of the coin, Heady Butts and Darling Catchment chose mostly familiar names, combining to add only four who missed out 12 months ago. In addition to Zorko and Coniglio who played under Dan last year, the butt coach also picked five players he drafted back in 2014, (Mumford, Shiels, Boak, Mayne and Houli). Bachar now makes it 3 years in a row under the Heady Butts/Deep Under Waters/Delicious Ravioli banner. The keenness for familiar faces perhaps attributing to the reason Dan finished with the second oldest side, which includes veterans, Bob Murphy (34), Hodge (32), Montagna (32) and Mummy (30).
The final two picks of the night went to last year's Grand Finalists, closing out the draft with injured Eagle Chris Masten and former high scoring DT defender, Nick Malceski. Malceski was the 150th player picked this year, a big drop from 23rd back in 2015, but many players weren't redrafted at all. Lest we forget the Essendon cheats, Watson and Heppell, the retirees in Judd, Jaensch and Chappy and remember the ones that should never have been drafted at all, like Minson, Petterd and Andrew Walker. #neverforget.